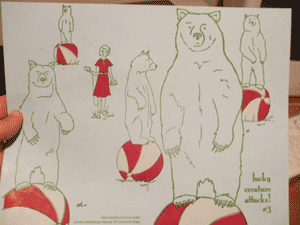 After almost a year, the english version of Snow for Eli came out of print. It was published in an athology called Lucky Creature Attacks, and it is awaiable at this site for only 4USD.
http://www.luckycreature.com/lca3.html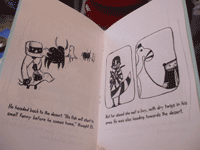 However, Colin and Josh you get a freecopy, along with the beautiful Slovenian wrap, as I promised, so please send me your address.
Best wishes,
Domen
LUCKY CREATURE ATTACKS # 3
Our annual anthology of comics/short stories/ poetry and more returns with a whopping 62 pages!.
This years edition includes comics by
Rodolfo Maximiliano Buscaglia, Eric Gapstur,
Shawn Scott Smith, Domen Finzgar, Agata Laguniak and Ed Moorman.
Fiction by Brendan O'Donnell and Zakarya Anwar and Poetry by Ray Succre.
With a beautiful wrap around cover printed on a letterpress by
Jessica White
and
Heroes and Criminals Press.
Order yours Today!
Only $4!